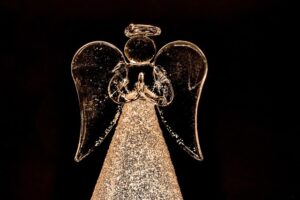 I sometimes wonder how angels fly. Do they change direction more swiftly than a gust of wind or a deflected ocean current? Can they spontaneously rearrange their spiritual dimensions into countless renditions of shape and form? Could I pass my hand through their very essence? My friend who is a pastor once joked that angels hang out in trees. Maybe that's what makes the branches bend and the leaves flutter! And what about those angels we call guardians? No doubt a nod of gratitude is in order for all those near misses from which protection came and comes.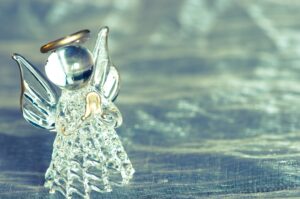 I've been removing the protective bubble wrap from quite a few glass angels at my house in preparation for Advent. I love glass angels for their transparency. Light streams through the window to these winged glass figures and there's this sense of luminosity that brightens any room.
The other day a large flock of geese took off into the air in a unified ascent right behind my home. Through my window, I looked eye-level at them as they zoomed over the open greenbelt with accelerating velocity. Up they flew in the distance in a wing-flapping, larynx-honking formation of cooperation and skill. I wondered then if angels fly in some sort of organized distribution like the geese.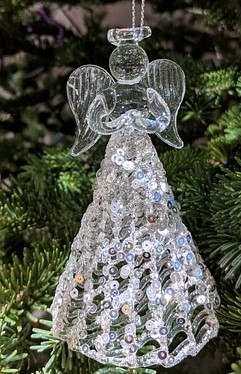 That's when I remembered the shepherds.
Now there were shepherds in that region living in the fields and keeping the night watch over their flock. The angel of the Lord appeared to them and the glory of the Lord shone around them, and they were struck with great fear.
— Luke 2:8-9
Not just one angel but lots!
And suddenly there was a multitude of the heavenly host with the angel, praising God and saying: "Glory to God in the highest and on earth peace to those on whom his favor rests."
—Luke 2:13-14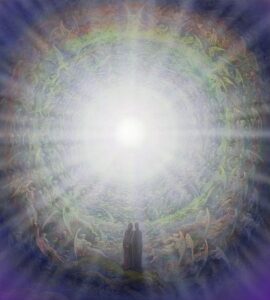 In the darkness, that brilliant gathering of angels shone about the flocked field. It was their angelic message that shepherded the shepherds to a swaddled infant in a lowly manger. It was that tiny Messiah nested in straw that the angels proclaimed from heavenly heights.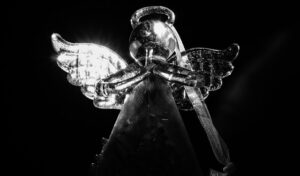 I hold one of the glass angels in my palm and marvel at the clear beauty. I know it's but a fragile, simple, imaginative guess at what those shepherds must have seen in the starry sky, but I'll keep the image close to heart as I make my Advent pilgrimage to Christmas, always welcoming God's angelic beings to guide my way.
Thanks for stopping by. ♥