Sometimes winged things are an asset. Think angels that hover on the sides of buildings, robins that flutter in the dark before dawn.
Hover?
Flutter?

What is it,
I mutter?

A Byzantine masterpiece
Of quarantined galleries

On brick-sided buildings
With paint-inscribed winged things?
Well, yes, you could say that.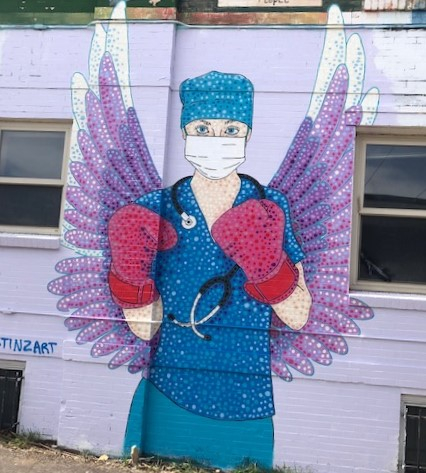 Earlier this month, I opened the newspaper to a feature article about a mural that graced the side of a building downtown. The mural appeared on the streets of Denver, Easter Sunday. My husband and I, masked and quarantined in our car, promptly found our way to the side of that brick structure on the corner of East Colfax and Williams Street, where I snapped a photo.
An angel of heroic proportions met our gaze.
Artist Austin Zucchini-Fowler painted the angelic rendering of a health-care worker with her dukes up as a tribute to all health care professionals during this trying time of the coronavirus. Notice the bright pink boxing gloves, the wide-eyed, resilient, masked face, and the luminous feathered wings.
Look out!
Wow. With a little paint, talent, and creativity, someone just brightened our hearts with the inspiration of those serving the world in a time of crisis.
Another winged-thing happened this past week. I threw back the sheets in the middle of the night, and stumbled to my desk in my pajamas. The house was quiet. The house was dark. What better time to finish the short story I'd been writing for days on end?
All through the night I worked. The portable heater at my feet thrummed its typical, monotone, hum. Then something strange…I detected an unusual tweet-like anomaly in the background noise of the heater. Something was amiss. Perhaps there was a mechanical problem in the inner chambers. Maybe the heater had finally met its doom in its un-warrantied life.
Blame it on sleep deprivation. How wrong I was!
I turned off the heater and in the absence of electronic warmth and without the steady drone of white noise, I heard a waterfall of fluid notes that filled the space outside my window.
I listened intently to the effervescent notes of what I fondly beheld as a robin. Its clear symphony streamed the airways before dawn. I never realized birds sang songs in the pitch-black hours before the sun appeared.
The bird sang its heart out.
A bird doesn't sing because it has an answer. It sings because it has a song.
—Maya Angelou
That winged little creature filled my sleepy countenance with joy. Its hopeful notes percolated a message only a chirping bird can chirp.
Sometimes winged messengers appear when you least expect it.
Thanks for stopping by. ♥
____________________________________________
Wenzel, John. "Mural honors health-care workers." The Denver Post [Denver] 19 April 2020: Page 8E. Print.