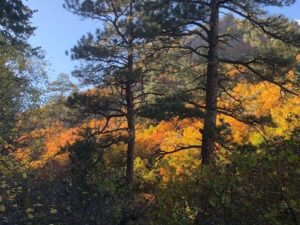 Oh, there's something beautiful in the foothills!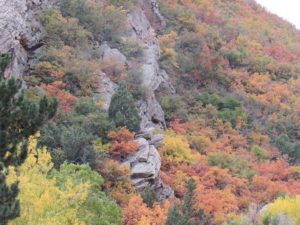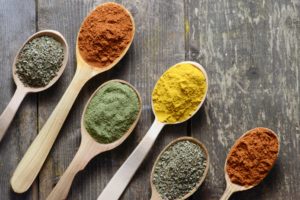 The hogback and the foothills near my home are ablaze with the deepest hues of spices and herbs this autumn. The air is cool and fragrant with earthen scents. The beauty whisks one's breath away.
Something resonates deep in my thoughts while hiking in that glorious palette of color….
I remind myself no human scheduler or logistician programmed the mountain's transformation from summer green to autumn sienna. The sophisticated world of technology and science can take no credit for the beauty in front of me. No person has organized or clustered the spice-colored foliage into the tapestry before my eyes. It simply was and is. Year after year. Season after season. Constant as the spin of our precious planet and the rising and setting sun.
I heard an old voice say
"Don't go far from the land
The seasons have their way
No mortal can understand."

—Loreena McKennitt "Courtyard Lullaby"
What is it about the rhythms of nature that offer some kind of stable continuity and predictability to our chaotic world? The expectation of seasonal change feels something like a hunch to me, an intuitive "it's coming soon," or simply, a basic knowing.
It's there on the boughs of bushes and trees where fruit is suspended heavy-laden in the patient culmination of time, water, and light.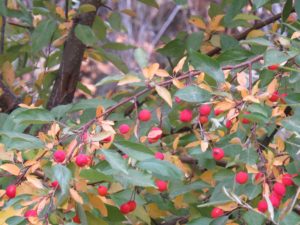 It's there in wide-mouthed pods exhaling great whispers of seed to the wind.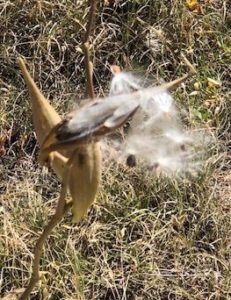 It's there when the trees embolden their leaves to scarlet and gold, the intense flush lasting only briefly before the leaves wither and detach from branches.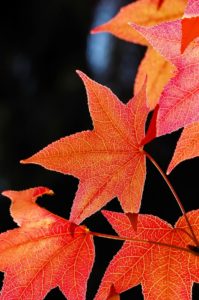 "There is an appointed time for everything, and a time for every affair under the heavens.
A time to be born, and a time to die; a time to plant, and a time to uproot the plant.
A time to kill, and a time to heal; a time to tear down, and a time to build.
A time to weep, and a time to laugh; a time to mourn, and a time to dance.
A time to scatter stones, and a time to gather them; a time to embrace, and a time to be far from embraces.
A time to seek, and a time to lose; a time to keep, and a time to cast away.
A time to rend, and a time to sew; a time to be silent, and a time to speak.
A time to love, and a time to hate; a time of war, and a time of peace."
—Ecclesiastes 3:1-8
The rhythm of life keeps pulsing and seasons are a way to mark time, to pause and reflect on the grace and mysterious order of creation.
Time doesn't stop. Your life doesn't stop and wait until you get ready to start living it.

—Wendell Berry, Hannah Coulter
And
Yet still some mystery befalls
Sure as the cock crows at morn
The world in stillness keeps
The secret of babes to be born.

—Loreena McKennitt "Courtyard Lullaby"
I find great peace and wonder in the fidelity of seasons. Blessings to all in whatever hue of life's landscape you find yourself.
Thanks for stopping by. ♥