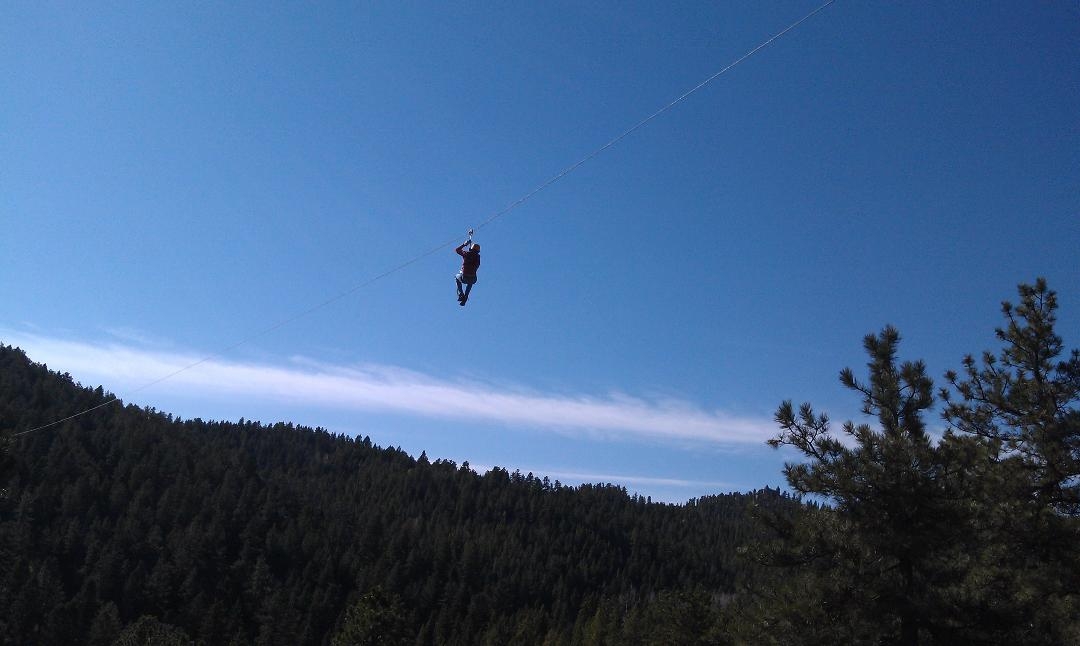 Ever feel the need to simply step away, breathe some fresh air, and discover a different vantage point?
"The future is more beautiful than all the pasts," assures French philosopher, priest, paleontologist, and geologist Pierre Teilhard de Chardin. His hopeful sentiment offers a sense of promise for perhaps the mundane tasks of day-to-day routines.
A change of scenery may sound enticing but sometimes it's difficult to accomplish because of all sorts of reasons like responsibilities, finances, health issues, or maybe just a reticence to partake in a bit of frivolous fun when there's so much heartache in the world.
Yet, sometimes "stepping away" brings a fresh perspective and is downright energizing.
"Uncomplicate yourself," wrote Roman Emperor Marcus Aurelius in "The Meditations" way back between 161 A.D. and 180 A.D.
"Almost everything will work again," urges author Anne Lamott, "if you unplug it for a few minutes—including you."
"Let us remember that closed spaces grow musty and unhealthy," reminds Pope Francis in his "Gaudete Et Exsultate on the Call to Holiness in Today's World (136)."
Author George Saunders confides, "I feel intuitively that if you're cramped you just have to lurch. Sometimes going into another form will loosen up the game a bit."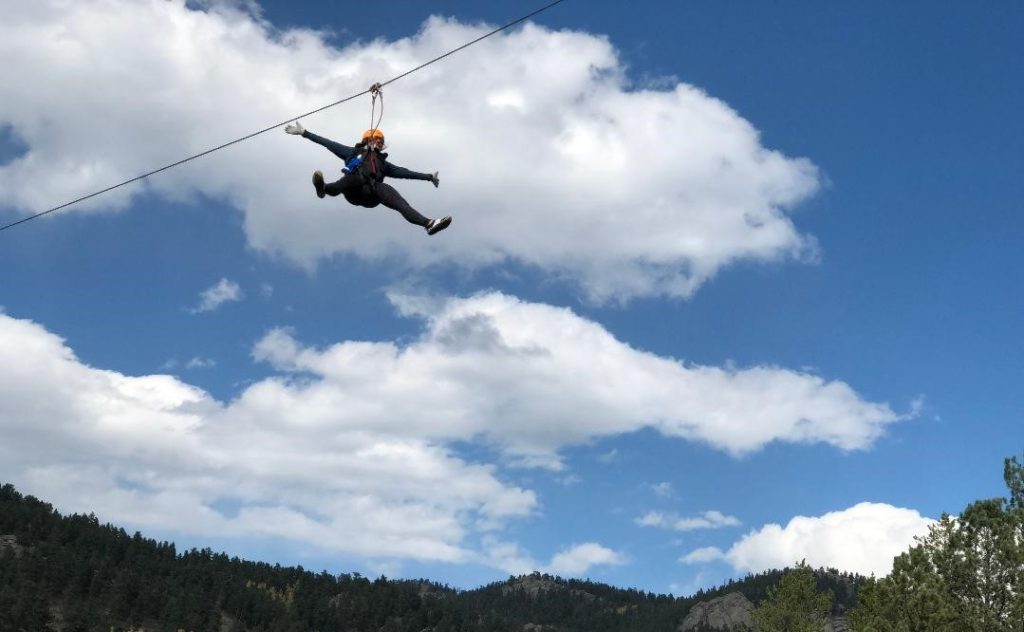 Recently, I had the opportunity to zip line above the trees in Conifer, Colorado with a group of poet friends. Six of us took to the mountains to "step away" from our writing desks and to "step off" a series of wooden platforms and fly through the blue blue sky.
Zip! Zip! What a ride!
As high as 250 feet above the ground and zipping as swiftly as 60 mph on zip lines from 850 feet to 1900 feet long, we sailed. I can still feel the swoosh of wind in my face, hear the zing of my harness clamp sliding over the wire, and relive the effervescent tingle in every cell of my body as I zoomed through the air like a bird above the tops of the green forest below.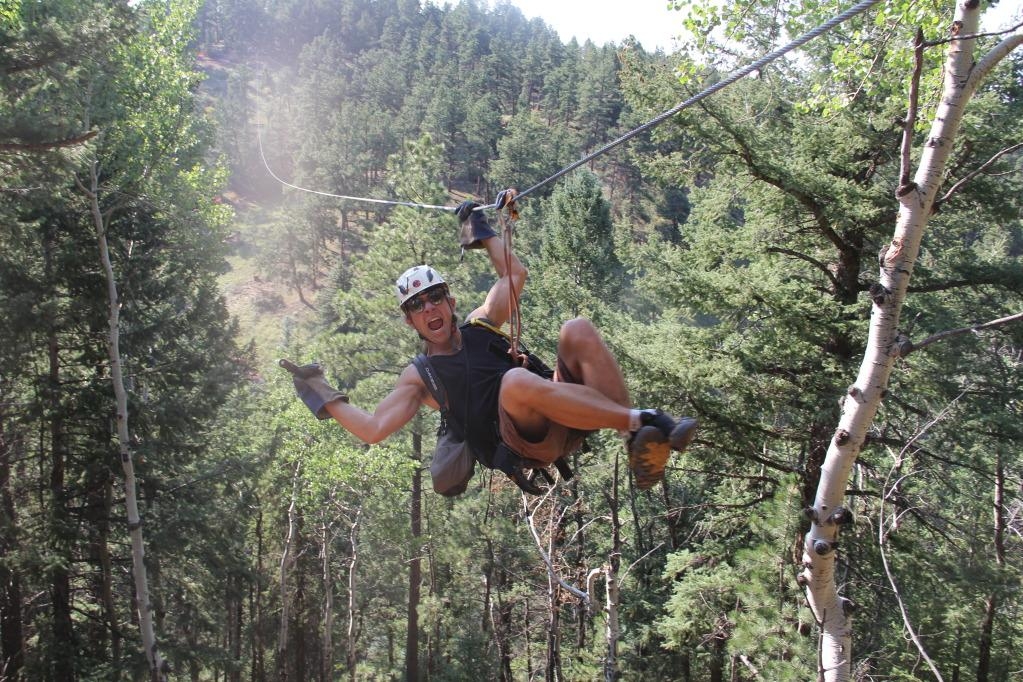 There's something about leaving the dirt and ascending to the clouds that transforms all sorts of dreary doldrums. I am reminded of something that novelist Stephen King said about the artistic life:
"…put your desk in the corner, and every time you sit there to write, remind yourself why it isn't in the middle of the room. Life isn't a support-system for art. It's the other way around."

—Stephen King, "On Writing"
And here's a stiff rebuke from Pulitzer Prize recipient Annie Dillard to writers about going stale:
"It should surprise no one that the life of the writer–such as it is–is colorless to the point of sensory deprivation. Many writers do little else but sit in small rooms recalling the real world."
—Annie Dillard, "The Writing Life"
Hmmm . . . surely not all writers, Annie.
But indeed, no matter what your occupation, vocation, or perhaps restricting stipulations happen to be, there's always the possibility of newness and growth. To me it's all about attitude and spirit and childlike wonder.
"We are not human beings having a spiritual experience: we are spiritual beings having a human experience."

—commonly attributed to Pierre Teilhard de Chardin but paraphrased from Hegel's dictum about matter and spirit.
And from Jane Goodall:
"There are really only two ways, it seems to me, in which we can think about our existence here on Earth. We either agree with Macbeth that life is nothing more than a 'tale told by an idiot,' a purposeless emergence of life-forms including the clever, greedy, selfish, and unfortunate species that we call homo sapiens – the 'evolutionary goof.' Or we believe that, as Pierre Teilhard de Chardin put it, 'There is something afoot in the universe, something that looks like gestation and birth.' In other words, a plan, a purpose to it all."

—Jane Goodall, "Reason for Hope: A Spiritual Journey"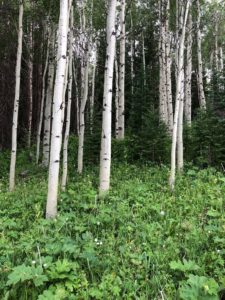 In that relatively small amount of time it took to step away from my daily routine and zip through the forest with my poetry-writing colleagues, I rediscovered a forgotten truth. Spontaneity is a wonderful thing. There's an openness about it that often delivers surprises. It wasn't adrenalin rushing though my veins that captivated me the most on that high-speed, high-altitude adventure through the trees as much as the spontaneous realization of a sacred creativity in what I was looking at. Yes, I recognized that mere human hands had designed and suspended the wire cables between one platform to the next in an extraordinary work of engineering finesse. But there was so much more teeming in my heart, mind, and soul. Ironically, in mid-air I experienced a phenomenal solitude of reflective calm similar to the times when I have hiked deep into the forests of the Rocky Mountains in Colorado. And it all had to do with the enormous creativity, originality, and beauty in the works of Creation right before my eyes, the abundant diversity and spontaneity in shape, color, and size in the multitudes of plant and animal species and the land itself. I was filled with awe and a reverence for the myriad acts of love in Creation that abound on our planet. It's like stepping into breath itself. I hope simply that my own creative efforts with words and language offer some small inkling of the beauty I beheld.
Thanks for stopping by. ♥
---
http://classics.mit.edu/Antoninius/meditations.html
http://teilharddechardin.org/index.php/teilhards-quotes
Teilhard Letter, 5 September 1919, Making of a Mind, 306
http://w2.vatican.va/content/francesco/en/apost_exhortations/documents/papa-francesco_esortazione-ap_20180319_gaudete-et-exsultate.html